Website for your business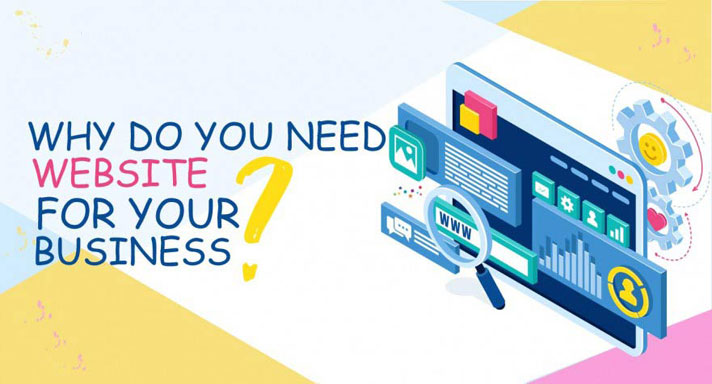 Why do you need a website for your business?
The questions of whether or not you need a website for your business can be answered with a simple "Yes." Even if your business is already successful without a website, there are still many powerful reasons why you should consider adding one in the future.
There are many reasons why you should have a website. With these top reasons in mind, it makes a lot of sense. Here are the top reasons to get a website. The first is that it's easier to get customers. You'll save time and money if you have a site because you'll be able to build a customer database. You'll also be able to analyze customer feedback that can inform your choices and improve your business over time.
Why having a website is important for a business?
According to the latest stats, 93% of consumers search online for a product or service before they buy. If your business is not on the Internet, you are missing out on an enormous part of the market. If you have a website, it allows you to tell your story to a massive number of potential customers. And, you also have the ability to track your traffic.
That way, you can see where customers are coming from and work to improve your reputation in those areas. Customers will appreciate the fact that you are online, as it can take extra effort and resources to create and maintain a website. And when looking at your competition, you might realize that they are not even online!

Tips for Creating a Website for Your Local Business
If you have a local business, you must have a website. A website is the best way to attract customers to your business and is an excellent way to showcase your business. In addition, it is also a perfect way to build the trust of your customers. A well-designed and professionally created website is the best way to attract new customers. Therefore, you should hire a
web designer
to make the website. Here are some tips for creating a website for your local business:
Make Sure it is Optimized for Mobile
The number of people browsing on smartphones and tablets is growing every day. In fact, according to this research, almost half of the traffic will come from mobile by the end of this year. It is very important that you make sure that your website is mobile-friendly.
A responsive website is a website that can be viewed properly on all devices (PC, smartphone, tablet, etc.). If you are not sure if your website is responsive or not, then you should check this tool.


Make Sure It Looks Professional
As per a survey, two-thirds of customers are more likely to do business with a company that looks professional. For this, it is important to have clean and structured content on all pages and make sure that your website's design looks neat and clean. Moreover, your website must have contact information and a simple way to contact you.


Have a Good Web Host
A good web host will provide you with the features that are necessary for your site to succeed. For instance, if you post multimedia content on your site, you need to find a web host that provides you with space for these larger files. If you plan to set up a shopping cart, you need to find a web host that will give you that option. The bottom line is that you need to find a web host that will allow you to do what you want to do with your site.
If you are finding good web Hosting so it may help you best hosting provider


Feature Your Name, Address, and Phone Number
Feature your name, address, and phone number on your website is important for several reasons. First, it helps people see that you are a natural person and not just a website. Next, it helps people connect with you. When they see your name and phone number, they feel more comfortable calling you.
If you are running a business, it is easy for them to contact you and let you know when they have questions. If you are trying to establish yourself as an expert in a particular field, people are more likely to trust you if they know you are a natural person.


Embed Social Media Information
The apparent benefit of embedding social media information into your website is attracting more visitors. People like to look at what others are thinking about your products and services. It is a great way to get a more positive mention of your business. People will share your content on social media, and that will bring you new leads. That also brings you more traffic to your website, and that will get you more customers.


What is the role of the website in business?
Your website is the first and the final impression, the face of your brand. If it is not up to the mark, then no amount of hard work can do you any good. I have seen so many businesses with good products or services, but because their website was ineffective, they failed to gain the desired attention. Even if you have good competition, you will quickly grab eyeballs if your website is good.


Do you really need a website in 2021?
The answer is simple - yes. The problem is most people might think that a website is not as important as it used to be. They think they can run their business from a Facebook page or just a few social media accounts. Most people don't understand that people don't share or seek your services on social media.
They go to google and search for things they want, and you need to be where they are looking. Google has dominated the internet search, and they are not going anywhere anytime soon. A website for your business gives you the opportunity to be on the top of the search engine results pages (SERPs). Having a website also gives you a place to send people who may not know about your business.
A website is the best way for your potential customers to find out about you. Until the Internet, businesses had to rely on the yellow pages or newspaper ads. Yellow pages were expensive, and newspapers were printed and got thrown away every day. Google search is permanent, and it also provides the most leads.
If you follow the Web designing trends so it helps you to grow your online business fast


How much does a website cost per month?
The cost of a website depends upon the hosting plan you get and the features you need. There are three basic hosting services available today: Cloud Hosting, Shared Hosting, and Dedicated Hosting. Cloud Hosting is the most expensive form of hosting.
It is the latest form of hosting, which is highly reliable, fast, and scalable. Shared Hosting is cheap and cost-effective. It is a shared service with multiple websites hosted on the same server. If you have a small website, it is a good option for you. If you are planning to build a large website, it is not the best option available.
On the other hand, a Dedicated Server is the most expensive form of hosting. It is a single server that is used to run a single website. Dedicated servers provide the best and fastest performance but cost much more than other forms of hosting. So, it all depends on the hosting plan you need.


Is website Helps to Grow Your Business?
This depends on what kind of business you are in! A well-developed, well-managed website can be a massive boost to a company offering products or services online, allowing them to reach customers on the Internet that they may not have been able to get otherwise.


How Much Does a Website Cost?
A website is an essential marketing tool, and most new businesses choose to have one. A successful website will not only increase your business but will also increase your brand awareness. Almost all businesses now have a website, making it important to stand out from the crowd.
So having a professional website can be the difference between making or losing money. There are two ways to build a website, one is to hire a developer to build one from scratch, and the other is to utilize a website builder.
Cheaper is always better, but hiring a professional web developer is the only way to go if you are planning to have a corporate website. If you want a website that will help you market your business, then going for a website builder is better. Here are the factors that will affect the price of a website:


Is website helps to make your brand image
It does. It plays an important role in building a brand. It has different factors that help the brand be known by the customers, such as the design, uniqueness, and perfect content that can help customers get information.