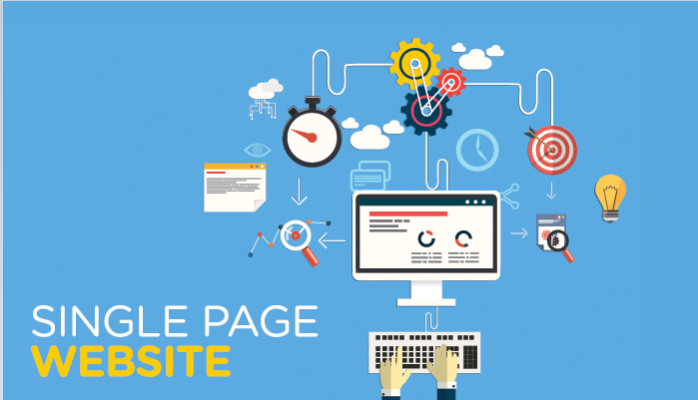 Advantage and disadvantage of a single page website
Parallax scrolling website is an elaborate name for a one page website. Instead of designing your website on multiple pages, all of the content is on one long, single page for visitors to scroll through. I'm sure you've seen them out there, so I wanted to share some of the pros and cons of this type of unique website.
One page websites are not uncommon and anyone who wants to have more control over their website can choose it. This is because single-page websites make it easy to monitor the target audience and make changes accordingly without spending much time, effort or money.
What is a single page website?
If you want to go by the definition, a website or a one page website is pretty much what its name suggests. That is, it contains only one HTML page. You will not find any extra pages like about us, features etc.
All the important information is given on one page which makes navigation easy for the users. It is easy to make and also you do not need to spend a lot of time in tension to make multiple pages for different information. There are many companies that choose a one page website because of its affordability. But that's not all. Many other factors also contribute to the popularity of a one-page website. Here's what you need to know:
Pros of Single Page Website:
Boosts user engagement: Since one page sites are… one page… it creates a higher engagement rate for users. A one-page site will quickly deliver messages and calls-to-action to users. Users are only connecting to one page, making it easy to engage with the calls-to-action you present on your site. They won't have to look far to find a contact form, or buttons that link to your social media, because they're all in one place. Additionally, as our attention spans get smaller and smaller, it increases the likelihood of a user staying on your site longer since they only have to scroll down a page, versus fishing through pages, sub pages, etc. have to try.
Prevents time consumption: It is easy to make and use. To elaborate, since there is only one HTML page, developers do not need much time to build this website. Plus, since you can access everything on one page, you can save a lot of time.
High number of enquiries: Single page websites enable users to reach as they are more likely to be interested when limited information is given at once. Not to mention, if your product/services makes them happy, they are likely to come back.
Boosts retention rate: When you can access all the important information on one page without having to click another button, you're more likely to stay right? It's the same with single page websites, a key aspect that users love!
Increases conversion rates: This is probably one of the best advantages of having a one page website. As all the visitors/users visit this one page, higher traffic is generated for the website resulting in higher conversion rates.
Easy maintenance and more affordability: Single page websites are easy to modify and expand because everything is in one page. That is, fewer cost and less time
More mobile-friendly: As any website ought to have a responsive design, a one page site is no exemption. When designing for mobile, users have a better user experience when they only see one page, even if they have to scroll. Think of any social media platform you use on your phone, where you scroll through a page to view content. A one page site is exactly that! No worries about flipping from page to page. Everything is in one place for you to view the content.
A single website works well with images: Because all your content is on one page, it gives you the opportunity to put a variety of high-quality photos on it, and gives your site visual appeal. It also provides an opportunity to boost your site's SEO. Acceptably named images can possibly increase your ranking in search results on Google.
Speedy loading: Although the high amount of content on a single page website can hinder loading, having the right amount of content can actually make a site load faster.
Now you can see that there are many positive aspects of a one page website. And just as there are two sides to a coin, there are negatives as well. So let us discuss about the disadvantages of one page website so that you can understand better.
CONS OF A ONE PAGE WEBSITE:
Difficulty with SEO: analytics: One tool that can aid in the success of any website is Google Analytics. This allows you to see which pages attract visitors or pages where users easily lose interest, etc. Because there is only one page to analyze in a one-page design, there is no way to compare it to any other pages on your website (since you don't have any). Understanding what content on your site is performing well versus what could be improved proves more difficult with a one-page site.
Increased scrolling: And this is exactly the result when you upload long content on your single page website. People will have to expend a lot of time scrolling which can frustrate them and leave in a jiffy!
Not suitable for sharing: It has been proven time and again that a website performs at its best when it is shared on social media platforms. But it is quite difficult for a one page website as you cannot share any of its elements individually.
Limited scalability: Once a one-page website is complete, you may be asking yourself "How do I add more content?" In short, you don't have much choice. One option is to replace the existing content, to ensure that the page length is the same. Another option is to cram information, resulting in a very long page that will cause users to have to scroll a lot. Or, finally, you can choose to expand your site into a multi-page site.
Slow loading: Now, this is one of the most talked about disadvantages of a one page website. Mainly because when you post a lot of content, images/videos etc. in one page, it can affect the loading time of the page.
Can be expensive: Although on the one hand, a one page website generates a lot of traffic, the same can be costly when your target audience increases. When it comes to marketing/advertising needs, limited content/links can create ranking difficulties.
Conclusion: After being aware of the advantages and disadvantages, you may now have an idea of what a one page website is what it can and cannot do. There have been various discussions and debates on the performance of a one page website and whether it can be a good replacement for regular / multiple page websites or not. But when it comes to making a final decision, there are many other factors to consider. At the end of the day, it all comes down to your business ideas, needs, goals etc. Will you be able to fit all the details of your product/service on one wall? How effectively will you be able to manage the downsides if any of these occur?
It is always wise to have a well-planned strategy on how you will proceed with a one-page website for your business. Hope you enjoy reading this article. If you have any questions or concerns, be sure to contact Hub Sol!