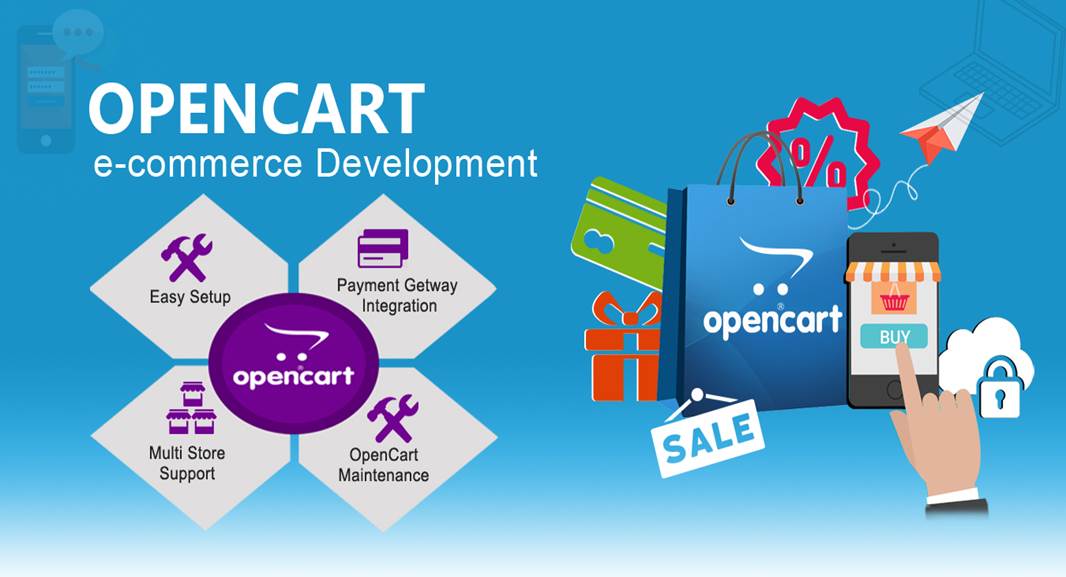 Why OpenCart is better for E-Commerce website?
Are you facing problems in using a single platform to handle multiple retail platforms at the same time? Well, you definitely need to read this article, which not only tells you the importance of technology with the help of

OpenCart web developer

but also gives you access to the latest technology for eCommerce platforms.
From localizing your eCommerce platform to choosing themes for each page and much more, a lot can be done with the help of an Opencart developer. They have the technical know-how to make your platform one of those that provide e-commerce solutions to users. In this article, we are going to heave light on how an online retail marketplace can beat the competition with the assistance of OpenCart developer and the technology involved in building an eCommerce platform with the help of this medium. We will also share details about the benefits of hiring Open Cart developers.
What is Opencart : OpenCart is an open-source eCommerce platform, which means you can download and update it for free. Also, you are not responsible to pay any monthly fee for using OpenCart. It also comes with a strong store management capability, which means you can benefit from its built-in SEO, and manage customers, products, coupon codes, tax rules, orders, and more.
In addition to all the benefits offered by the Opencart developer, it also offers multi-store upholding that allows you to maintain multiple stores from a single interface. This utility lets you set up items for different stores, use specific themes for each online store, and limit your sites. Item options and features are also very compatible with OpenCart, and the system lets you include additional item features.
There are many technologies involved in building an e-commerce platform with the help of Opencart, but future changes may not seem too difficult for platform owners as it is easy to understand. This will remove the need to rely on third parties for the maintenance of your platform.
While there are many e-commerce websites and apps that are limited to a certain region or country, this one is quite the opposite. In the case of an eCommerce platform developed with Opencart, there is a high scope of scalability as it can help you scale your products and platform to your user base and sales as well as reach international users.
Why Do You Need an OpenCart eCommerce Marketplace Developer?
There are thousands of shopping websites and apps that have come into existence with the help and support of OpenCart developers. They not only facilitate them during the development of their e-commerce platform but also provide a very satisfying user experience to their customers. The usage of this platform has increased in the last few years and people are quite satisfied with the results. An Opencart e-commerce square developer has always proved to be valuable, not only for start-up groups but also for brands already performing well as they can stay competitive with the help of modern technology.
1- Transparency: Since each project is handled separately by the Opencart developers, they deal with each of them in a different manner. It brings each step that the application is in to the attention of the customers. Thus the progress is noted by the customers who can suggest any changes to the app if required.
2- Options Of Hiring: Every app development agency can have a talented pool of experts to choose from. This springs the customers the gain of choosing experts of their choice and asking them to work on their projects.
3- Visibility: Opencart developers not only help you develop your e-commerce platform, but they also help you gain visibility for your platform. Hence, the customer's products are supported even after they are developed and launched among the public.
4- Testing: Opencart developers never launch an eCommerce application without carefully working on it and testing it thoroughly before launching it on the App Store. Eventually, after the ideas are implemented and a capable application is created, it goes through the testing phase, where each feature of the application is extensively tested and updated.
5- Proficient: These specialists have ridiculous experience in using multiple plugins and have all the technical expertise required to use this framework. They can enhance the look and feel of the app and make it a visually appealing online store.
Benefits of Using OpenCart for Your Ecommerce Business Website:
Easy to Use: OpenCart is recognized for its untaught and user-friendly interface. Even those with no technical background can simply navigate and set up their online store. With a meek installation process and an extensive range of customizable templates, OpenCart makes it easy for anyone to build an attractive online store.
Cost-effective: Starting an e-commerce business can be expensive, but OpenCart offers an affordable solution. The platform is open-source, which means it is free to download and use. Additionally, many extensions and add-ons are available at low cost, making it easy to grow and customize your online store without breaking the bank.
Sell Unlimited Products: Developers will allow OpenCart e-commerce store owners to add a myriad of products on sale. This would be a significant advantage in listing the products in different categories. It will also give you the facility to select reviews and ratings of the products, giving you a better understanding.
Multi-store Functionality: Can monitor different online e-commerce platforms at the same time from one admin panel. A range of online stores can be handled at the same time from a single interface. It helps the user to set up an online platform for different brands with a different theme and preference. They can be separated accordingly. However, administrators can exercise their controls from one place. Full support is offered to the customer and he can have uninterrupted access to any online store.
Payment and Shipping Integration: OpenCart deals seamless integration with a wide range of payment and shipping providers. This means that you can simply accept payments from clients around the world and ship your products to any location. It also ensures a smooth checkout process for your clients, thereby successful their overall shopping experience.
Massive Support With 1300 Plugins: The ultimate goal of any business is to get a good return on investment and overall growth. A business may grow at a slow pace in the beginning but is likely to grow at a higher pace later on. With the help of the many plugins available, it is easy for your online retail business to grow in no time with the latest features and functions. These e-commerce platforms are aided by additional plugins available on OpenCart Developer that provide support for shopping apps and websites.
SEO Friendly: All e-commerce platforms look for positive feedback from users and the best way to get wide coverage is through integrated search engine optimization (SEO). This helps the e-commerce platform to appear at the top of Google searches. Since all users first like to visit any retail store on Google and see its ratings and reviews, SEO enables it to appear on the top of the search and get more responses from the users.
Support and Community: As with any e-commerce platform, having reliable support is essential when issues arise. OpenCart bids a dedicated support staff, a community forum, and extensive documentation to help you troubleshoot any issues. Additionally, the platform has a large and active community of developers and users, providing an excellent resource for advice, tips, and ideas.
In conclusion, OpenCart is a brilliant choice for ecommerce businesses of all sizes with its ease of use, affordability, scalability, SEO-friendliness, payment and shipping integrations, and support and community. If you're looking to start an online store or switch to a new ecommerce platform, OpenCart is definitely worth considering.