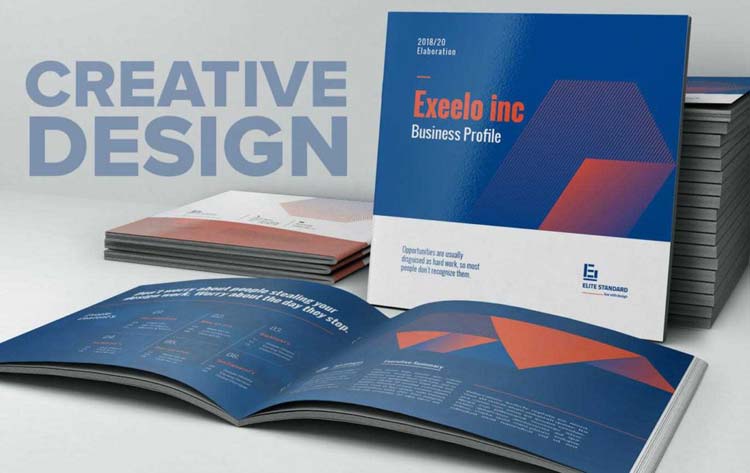 Grabbing Company Profile Design
A corporate business profile is a brief look at an organization, which helps different categories of individuals to have a basic understanding of the company's services and products, its primary audience, its specialized capabilities, its past records and whether it is a decent agency, is on doing business with.
Simple details about the company should be included in a decent corporate sector profile. It shows the year in which the company was founded, the location, the goods and services it provides, its target customers, its special strengths, and the principles to which it is dedicated. Whenever a business has been around for a long period of time, a quick overview of the awards it has received, its accomplishments, or achievements it has achieved will help build a strong argument for the company's credibility and suitability to engage in business.

Your company is your brand. It is one of the first things your customers mentally pay attention to. Hence creating a reputed Company Profile design in Pakistan should be considered with high regard. Take a look at these 5 essentials to capture the attention of your next customer. Apart from the material, other things should also be taken care of!
First impression that deserves a second look: Your company profile cover is the first thing your future prospects see. Just like how you take a second look at someone, they were attractive enough to get your attention—don't deny it. Designers try their hardest to create cover page excellence, so the company profile you've decided to choose took days to get right.
So, give more time to design your company profile cover. Our advice is to propose several designs before deciding on one that is the most aesthetically pleasing first impression. If you haven't already, consider finishing your cover—matte, gloss, or spot UV—for the best results. The feel under the reader's fingertips with an attractive cover worthy of a flip-through.
Set your standards: If you're a vegetarian, working at a butcher shop would be ridiculous, wouldn't it? So it is important to keep the standards in mind while deciding on the design of your company profile. This is a contributing factor in how thoroughly your company researched how to influence your future customers to seek out your products or services.
For example, if you are a company specializing in agriculture, it is paramount that you incorporate relevant and contemporary elements in your company profile that are in line with the said industry standards. This way, your potential customers immediately notice how up-to-date your company is.
Impeccable design: Not everyone is destined to have extraordinary design traits. But it should be enough to cover the basics when creating a company profile design, mainly the color schemes and the overall theme of the design. One significant gradient is to never overdo the design, be it for a company profile or anything else for that matter.
It's in your best interest to stick to a maximum of 4 colors, unless you're an artistic brand that allows you to feature colors in your company profile. If not, are careful mixing different colors so that the final product looks smartly made?
Keep it arranged: Now the fun part, the setup! Organize your content and copy writing in the most systematic manner to generate flawless information transfer to your potential customers. A word of caution: Display enough white space for your copy writing so that it doesn't look so long that no one will be interested.
The way the content is arranged and aligned should also be a priority. For sections that include sequences such as Our History or Our Projects, choose a general and well-structured timeline to engage your readers.
Consistency: Any irregularity in your company profile design can reduce your reader's interest. Does your theme sync between pages? Are your fonts well-matched with the theme and interchangeable? Are your rendered images in the correct order with the same borders and sizes?
Pay attention to these neglected components before submitting them to print because there's no going back to printing a pile of disorganized company profiles. There is no point in a perfect design and arrangement of materials if overall sustainability is out the window!
It cannot be repudiated that a company profile should be perfected and polished conferring to these secrets. But these tips may seem a bit impractical and complicated for someone who has just started designing a company profile. Fret not! Hub Sol is here to assist you with any issues to ensure that your potential prospect will undoubtedly remember your company profile.